Meet Janet Kay

An Author with a Focus on
Life, Love and New Horizons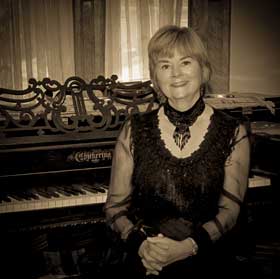 Photo by Anna Martineau Merritt, Misty Pines Photography
Photo Edit by Jennifer Mitchell, Tealwood Photography
Janet Kay lives and writes on a pristine lake in the woods of northwest Wisconsin. Drawn to nature since she was a child, she sees it's wonders as a source of renewal, reflection and connection with something greater than oneself. Her lifelong interests include creative writing, travel, photography, exploring nature, and spending time with family and friends. She has a special interest in the Victorian era and in the paranormal.
Just Released and Available on Amazon!
The long-awaited sequel to "Waters of The Dancing Sky"
and an intriguing tale of love, lies and family secrets
Rainy Lake Rendezvous
Cover photo by

Hannah Linder Designs

Determined to reclaim Beth, the ex-wife whom he divorced ten years ago, Rob leaves his former identity as a prominent Chicago attorney behind him. He embarks upon an obsessive mission to rescue her from the man whom he believes is holding her hostage. He believes that, together, they will begin a new life in a remote cabin in the Canadian wilderness.

But Beth has finally found peace and is no longer living in fear of her delusional ex-husband. She is happily remarried to an Ojibwe artist who honors his ancestors' cultural beliefs. They live on a pristine island on Rainy Lake, along the international border between Minnesota and Ontario. Together, they are raising ten-year-old Jason.

Jason's idyllic childhood takes an unexpected turn as destiny intervenes. He awakens from a dream to find himself on a bizarre wilderness adventure with a stranger, accompanied by a spirit from beyond this world. This transformational journey leads to the discovery of long-held family secrets that will change all of their lives forever.

The characters struggle through a series of suspense-filled twists and turns. Is it possible for them to let go of the past, to forgive, and move into an uncertain future?
See what a New York Times best-selling author has to say about this new release on Book Reviews Page.
Go to the BOOKS page to order this book.
Janet Kay is a member of the Lake Superior Writers, Writers League of Texas, Wisconsin Writers Association and the St. Croix Writers of Solon Springs, Wisconsin.